Getting out of your comfort zone is the best thing you could do for yourself. That's exactly what I did when my friend, Susie, asked me to make a jacket for her daughter, Karigan. I was asked to replicate Sebastian Michaelis's jacket from the anime, Black Butler.
This wasn't your ordinary suit jacket. It had a fancy coat tail! I wanted to make sure that I could put my personality and Tori touch on this piece. I'm used to making clothing that is girly and edgy. So this was outside the box for me. Never had I made any outerwear. It was nerve-wracking taking on the project because I knew there were many, many details to this garment, like interfacing, bias tape, and buttons. With all the nerves, I was excited to get started.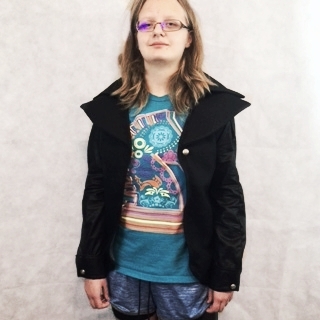 Susie and I went to Joann's Fabrics to get some fabric and a pattern to work from. I chose a really neat textile that represented a snake skin leather for the coat arms and a black suiting fabric for the body of the suit. We found a costume pattern for a pirate that had a tail on the jacket and thought it was perfect. I love paying attention to the small things and made sure I chose buttons that looked unique.
When I started I realized I that I really don't pay attention to the little things as much as I wanted. I looked at the pattern and it was for a size 46 male. Karigan is about my self and I wear small - medium. I knew the pattern was going to be way too big. This was a challenge I ran into because I had to tailor the pattern completely to make sure it will fit Karigan. Also, I bought the wrong interfacing and ended up scrapping it. It worked out without the interfacing.
Progressing throughout the project I fell more and more in love with the jacket. I kept trying it on to see how it would fit and even told my boyfriend I wanted to keep it for myself. Everything was turning out perfectly. Karigan even got the chance to work on it with me. I showed her how to do some straight stitching on the sewing machine. She really enjoyed it and I hope she continues to sew and design in the future.
After seeing the finished product, Susie, Beau (her hubby), and Karigan came over to get the jacket. She loved it and wore it for Halloween. Although this was a costume jacket, I know it will be worn for other occasions as well. The jacket is black (and will go with anything), it's different (her style is awesome), and it's one of a kind (so, she'll want to show it off). AND OF COURSE, it's made by yours truly. I put my heart into this piece and I'm very excited that it is in good hands.
Tori Dany Designs' mission is to create connections one design at a time. I make custom, one of a kind pieces for individuals that will appreciate unique pieces. Comment or message me if you would like a Tori Dany Design! I have created a fashion design series on my Youtube account for you to follow my design journey. Stay connected with me over social media.
-- Tori